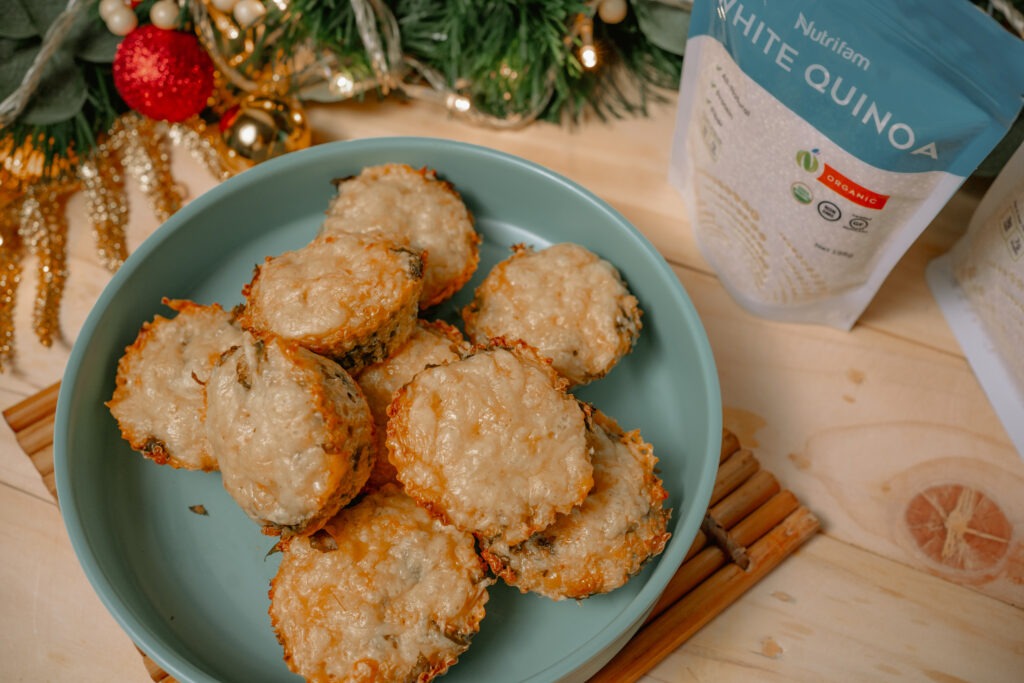 Worried that you'll get unhealthy with all the holiday food and celebrations? Check this new Nutrifam Cheesy Quinoa and Spinach Cups recipe. It's appetizing and packed with nutrients. Quinoa is high in fiber, gluten-free and a good source of protein. Spinach is good for eye health and help prevent heart disease and cancer. So, enjoy this recipe and be healthy!
Prep Time: 35 minutes
Yield: 12 cups
Ingredients:
2 cups (300 g) cooked Nutrifam White Quinoa (about 1 cup uncooked)
1.5 cups (150g) shredded cheese (I use Gouda) + 1/2 cup (50g) extra for grilling
2 cups (200g) fresh spinach, or frozen (defrost, drained and excess moisture squeezed out)
3 eggs
½ tsp salt
1 Optional: garlic clove or a pinch of garlic powder
Instructions:
Cook the quinoa.
Heat the oven to 180° C (360° F)
Briefly blend the fresh spinach and eggs in a blender or food processor. I like to keep some structure, but feel free to blend until you get a fine green mixture.
Alternatively, you can also just chop the spinach leaves with a knife and beat the eggs separately.
Mix all the ingredients in a large bowl and spoon into a well-greased muffin tray, or use silicone muffin cups to avoid sticking. Top with some more cheese.
Bake for 15-20 minutes until the edges start to brown.
Enjoy them hot, lukewarm, or cold, with some salad, raw or cooked veggies.
They keep well in the fridge for a week and up to 6 months in the freezer.
For more content, follow us on Instagram: @nutrifamph