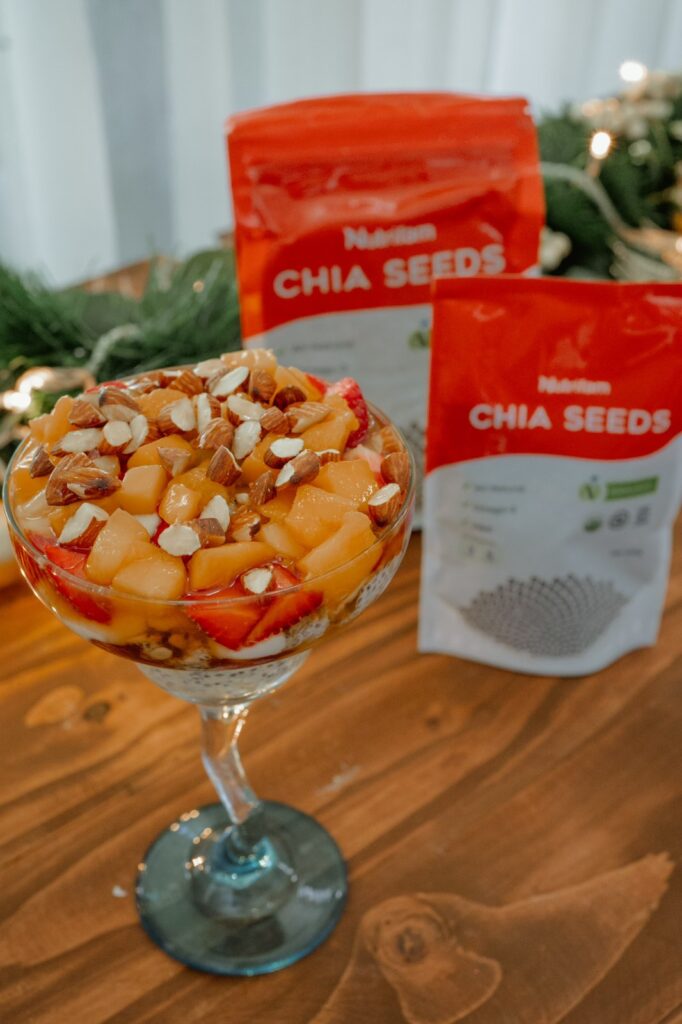 'Tis the season to be jolly and this new recipe will surely make you happy. This colorful and delightful Bircher Chia Parfait is made to taste and feel like Christmas. A perfect way to start the season, right? Give it a try!
Prep Time: 1 minutes
Cook Time: 4 minutes
Total Time: 5 minutes
Yield: 5 servings
3/4 cup old-fashioned rolled oats
3 tablespoons Nutrifam Chia Seeds
1 1/4 cups whole milk (or unsweetened nondairy milk)
1 1/2 teaspoons pure maple syrup, plus more for serving
Pinch of ground cinnamon
3/4 cup vanilla Greek yogurt
1 cup chopped mango
1/4 cup fresh strawberries and kiwi
1/4 cup chopped toasted almond
Instructions:
In a medium bowl, stir together oats, chia seeds, milk, maple syrup, and cinnamon. Cover and refrigerate until thickened, at least 8 hours and up to 3 days.
To serve, layer oat mixture, yogurt, mango, strawberries, kiwi and almonds into glass cups or jars. Top with more syrup, if desired. Serve immediately or cover and refrigerate for up to 1 day.