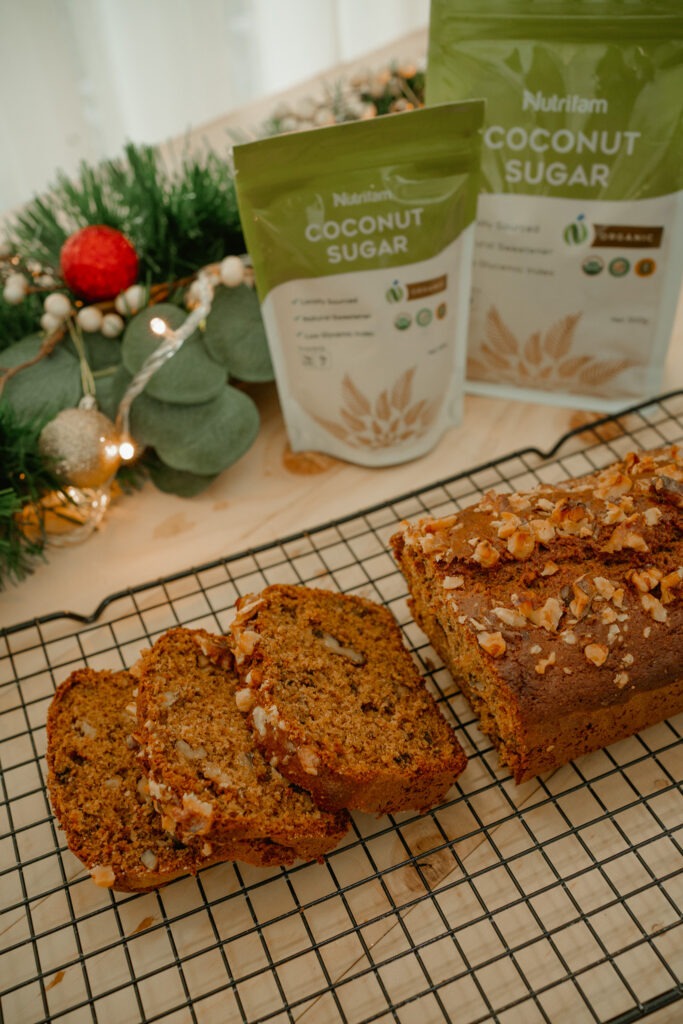 Thinking of a gift for your friends and loved ones this coming holidays? How about a banana bread made healthier with Nutrifam Coconut Sugar? This quick and easy recipe will surely make their hearts and tummies full. Try it out!
Prep Time: 1 hour
Yield: 4 servings
Ingredients:
2 Large Bananas , mashed ripe to overripe
1/3 cup Coconut Oil , melted
3/4 cup Nutrifam Coconut Sugar
1 tsp Vanilla Extract
2 Eggs , room temperature
1 1/3 cups Whole Wheat Flour
1 tsp Baking Soda
1/2 tsp Salt
1/2 cup Chopped Walnuts (set aside 1 Tbsp for sprinkle on top)
Instructions:
Preheat the oven to 350 degrees F (180 degrees C).
In a large mixing bowl, use a whisk to mix Whole Wheat Flour (1 1/3 cups) , Baking Soda (1 tsp) , and Salt (1/2 tsp) together. Set aside.
Peel Bananas (2) and place them in the bowl. Use a fork or masher to mash bananas. Set aside.
In a medium mixing bowl, use a hand mixer to lightly beat Eggs (2). Add Coconut Oil (1/3 cup) , Vanilla Extract (1 tsp) , null , and Coconut Sugar (3/4 cup) . Use a spatula to mix until combined.
Mix the wet mixture in the dry mixture until just combined. After it's combined, fold in the Walnuts (1/2 cup) .
Pour the mixture into a greased parchment-lined loaf pan. Smooth the top and gently tap. Sprinkle on top with remaining walnuts.
Bake for about 40-45 minutes or until a toothpick comes out clean.
Remove from the oven and allow the bread to cool down for 5 minutes.
Slice, serve and enjoy!