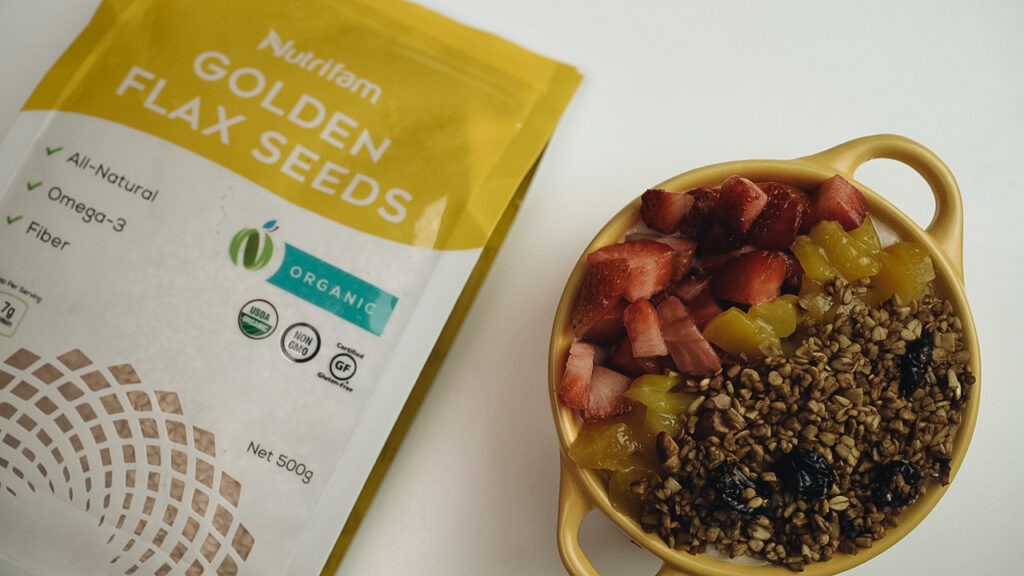 Are you a granola lover? Good news for you! You can now make your own homemade granola with our Nutrifam Chia Seeds and Nutrifam Golden Flax Seeds. Watch the video!
3 cups old fashion oats
½ cup chopped almonds
¼ cup chia seeds
½ cup maple syrup
2 tbsp Nutrifam Coconut Sugar
1/3 cup grapeseed oil
½ tsp vanilla extract
½ tsp salt
½ tsp cinnamon
Procedure:
Preheat the oven to 160C. Line a baking sheet with parchment paper and set aside.
In a large bowl , add mayple syrup, Nutrifam Coconut Sugar, grapeseed oil, vanilla extract, salt and cinnamon. Whisk together until combined.
Add the oats, almond, Nutrifam Golden Flaxseeds and Nutrifam Chia Seeds to the bowl and stir until everything is coated with maple mixture.
Pour the mixture onto prepared baking sheet and spread into an even layer. Bake in preheated oven for 30 minutes, tossing every 10 minutes.
Let it cool completely before serving. Once cooled, top on your favorite yoghurt or ice cream. Enjoy!
For more content, follow us on Instagram: @nutrifamph